Kalangala palm oil sheds a shadow on women rights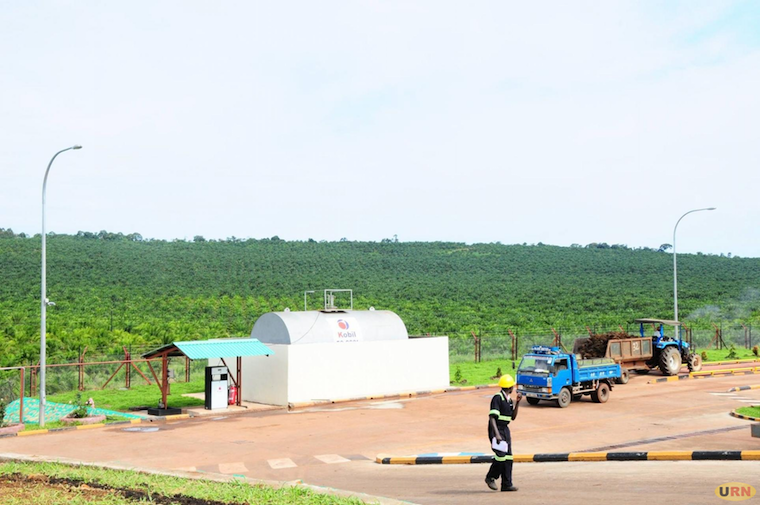 Embarking on developing large-scale oil palm plantations in Kalangala district called for an intensive labour force.
Indeed, many women are currently working in the discrete think-well planned-large and deep plantations in the middle of the island in Uganda. The maiden question to this arrangement is: Are the human rights of these women given their unique status and natural maternal functions in society?
In 2021, members of the Uganda Consortium on Corporate Accountability (UCCA); the Southern and Eastern Africa Trade Information and Negotiations Institute (SEATINI) and the Center for Food and Adequate Living Rights (CEFROHT) made an outreach in Kalangala. It is shocking that corporate actors in such huge projects cannot afford protective gear, adequate to protect the women working in their plantations against adverse effects. 
One of the many tragic labour rights abuses is that of Sarah Namagembe (not real name) who on a rainy day while carrying fertilizers on her head using a poor-quality sack had the fertilizers discharged on her body with some of it getting into her eye. She was taken to hospital and the doctors informed her that the injury damaged the eye beyond repair.
Due to throbbing of her eye, any form of movement is painful, unbearable and uncomfortable. She was informed by doctors that despite the ongoing treatment, she might never be able to see properly again. This has affected her as a woman and single mother since she is unable to fend for her children the way she used to.
Namagembe's partner and father to her children deserted her because of her condition and the company is yet to honour the workman compensation for the injury suffered.
This and many other untold stories are the unfortunate labour abuses that women working in huge plantation farms continue to face. Without a minimum wage in the country, most women earn little pay for long days of work at the expense of their human rights while companies which engage their manual labour continue to belch on huge profits.   
Plantation agricultural enterprises in the country ought to observe and implement human rights protocols to protect women at the place of work. Accommodation must never be shared with male counterparts as it would abuse the right to privacy and dignity of the women at the place of work.
The Constitution of the Republic of Uganda provides for the protection of women and their rights, taking into account their unique status and natural maternal functions in society. All this is highlighted in different international instruments that protect women's rights which were ratified by the government of Uganda. 
As we celebrate this year's International Women's day, we add our voice to call for gender equality today for a sustainable tomorrow. Women's rights must be respected at the place of work. 
Companies must fulfill their corporate responsibility to respect women's rights at the place of work. This includes providing adequate protective gear, giving women paid maternity leave, among other rights, at the place of work.
We call upon the government to enhance the monitoring and inspection of labour at the plantation agricultural enterprises. The district labour officers ought to ensure that victims of plantation agricultural corporate labour abuses have timely redress for the abuse especially workman compensation for injuries. 
At the peak of plantation agriculture in Uganda, the government of Uganda must tighten human rights monitoring in large-scale plantations.
As we celebrate this year's women's day, we urge the government to strengthen the legal, policy and institutional frameworks to ensure that women's rights at the place of work are respected.
This would include the amendment of the Investment Code Act, 2019 to include the protection of human rights, requirements for social impact assessment, human rights due diligence, performance requirement measures and the right of the state to monitor and regulate investments in public interest.
The author works with the Uganda Consortium on Corporate Accountability
This article originally appears in The Observer