Consultative Meeting with the Pakwach District Project Implementation Team and the Paten Community in Ragem Sub County on Wadelai Irrigation Scheme Project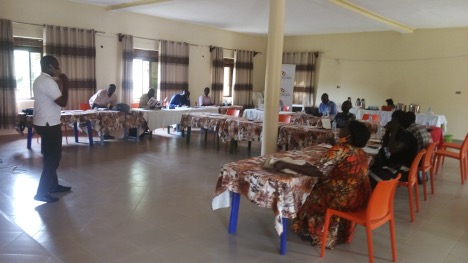 Background
With support from the African Development Bank (AfDB) the government of Uganda is implementing a Farm Income Enhancement and Forestry Conservation Project consisting of four components namely; i) Agriculture Infrastructure Development; ii) Agribusiness Development; iii) Integrated Natural Resource Management and; iv) Project Management. The overall goal of the Project is to contribute to poverty reduction and economic growth in Uganda through enhanced productivity and commercialization of agriculture. This seeks to improve household incomes, food security, and climate resilience through sustainable natural resources management and agricultural enterprise development.
One of the project affected clans, the Paten clan – in Wadelai, called for UCCA's intervention through BIRUDO claiming that the project surveyed their land in excess of what was agreed upon without the clan's notice.
Activity
The UCCA held a consultative meeting with the District stakeholders and the paten community in Ragem sub county on the 17th and 18th March 2021 to share findings of the community-led research, receive feedback from the Local Government and strengthen transparency and accountability in implementation of the Wadelai Irrigation scheme in line with the African Development Bank Safeguards.
Key to this activity was the inconsistences in information provided to the community.  The clan through their local leader consented to providing 365 acres of their community land for the project. However, the land required as per the project design was 365 hectares of land, an equivalent of over 750 acres of land which the community was not willing to offer despite the meetings and land surveys that the project team had conducted with the community representatives